AEA Brings Down Marshall Liberal Government
When the Marshall Liberal Government were elected in 2018, the AEA suspected it would be a challenging four years
ahead.
It was only a matter of weeks before the newly-elected Marshall Liberal Government reneged on their pre-election commitment to honour the recommendations of a staffing review of the SA Ambulance Service.
The review group was halted and the consultancy report that was meant to be informing the review group was locked down, citing 'cabinet in confidence'. Nothing further would happen in this space for the remainder of their electoral term.
Since this time, the AEA has fought a multi-pronged and sustained battle on the fundamental issue of the adverse impact on patients and members, as a result of under-resourcing of the Ambulance Service.
The AEA ran an arbitration case in the SA Employment Tribunal on the work environment that saw members working or vast periods without a break, the significant reliance on overtime to fill core shifts, on-call rosters in country areas, and the practice of ramping.
Over two years on from submissions, we still await an outcome from the President Judge overseeing the case. We provided input to a Coronial investigation into the deaths of two patients who passed away after a delayed ambulance response. We are aware there are several more cases waiting to be investigated.
We ran a Parliamentary Petition, collecting over 44,000 signatures of South Australians who supported our call for a sustainable long-term funding stream to provide resource capacity, and to eradicate the practice of ramping.
This has been lodged in Parliament and is now the subject of review by a Legislative Review Committee.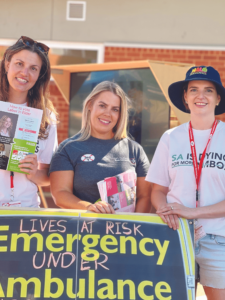 AEA 'Safe Staffing' Campaign
The AEA ran a public Safe Staffing Campaign – posting stories, pictures and videos of ramped ambulances, poor patient experiences, adverse outcomes and heartfelt pleas from Ambos directly. We were on the radio and evening news on a weekly, at times a daily, basis.
Incidents included:
the mother of an 18m old girl having a seizure waiting 30 minutes for an ambulance
a 6-day-old baby short of breath in the CBD waiting 55 minutes
elderly patients waiting on the floor for 8+hours
patients going into cardiac arrest in the back of the ambulance whilst ramped
and patients passing away after a delayed ambulance response.
There are hundreds of these stories. The Government's feeble responses have included: 'it was a surge', 'there was an uptick', 'the ambulance service has a dynamic deployment model', 'all cases are prioritised', 'it was a very windy day' and 'condolences'.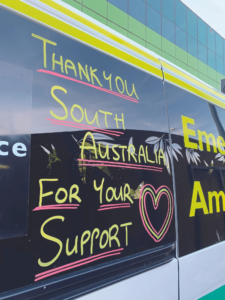 'Chalk My Ride' initiative
Ambos chalked their ambulances with public safety messages – 'record ramping under Marshall' and 'worst response times under Marshall'. Ruled to be Industrial Action and Ordered to cease, we held public chalking days, with hundreds of members of the public coming to our office to get their cars chalked.
We held 'Chalk My Ride' days at three locations across the State, with hundreds more turning out to have a chat, offer their support, and get their car chalked. The events were a huge success. We even had a member of the public make dog bandanas for us!
We engaged a marketing firm to develop ads for TV and radio, with the tagline 'SA IS DYING FOR MORE AMBOS' which can be seen at www.moreambos.com.au.
We received overwhelming public and political support for our cause. Parties and candidates including Labor, SA Best, Greens, SA Nationals, and numerous Independents running in the upper and lower house were throwing their support behind our campaign for safe staffing.
Labor committed to 350 more Ambos and over $300 million worth of infrastructure investments including a new Emergency Operations Centre!
As we fought, and the Marshall Liberal Government resisted, the risk to patients and members grew.
Ambulance response times for Priority 2 cases, achieved 85% of the time under the previous Labor Government, plummeted to just 32% of cases for the first week of 2022.
With every passing week and month as things went from bad to worse, when we couldn't fathom things getting any more critical – we reached a tragic new depth to the crisis.
Five people in a matter of 8 days were found deceased after experiencing a significantly delayed ambulance response. This occurred a week out from the State Election.
More 'condolences' from Premier Marshall.
The Marshall Liberal Government's persistent, callous disregard for patients' pain and suffering – even death – incensed our members.
Ambos stood at early voting centres and on Election Day to speak with people about the ambulance crisis and encourage them to put the Liberal Party last.